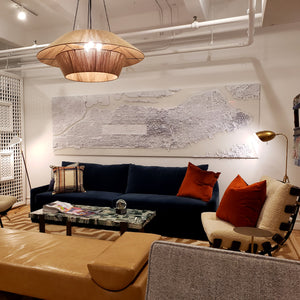 Entirely Custom Artwork
For Office & Home
Brookfield Properties' Manhattan West Accent Wall
A 1:5000 scale, 15' x 9.5' boardroom wall installation for Brookfield Properties on the 52nd floor of One Manhattan West, NYC.
This piece is composed of over 140 12-inch square panels, which were 3D-printed in a custom, matte finish material selected by the client to match the overall room.
Buildings in Brookfield's ever-expanding portfolio of properties are printed in a blue color -- also selected by the client.
BCGDV Office Entry Artwork
This was one of our first custom commissions -- a small (4' x 5') partial Manhattan model at our standard 1:5000 scale. It was installed in Boston Consulting Group's Digital Ventures offices in 15 Hudson Yards, NYC.
Custom 1:5000 Scale Models For Your Home
Below you'll find photos of past custom commissions for individual collectors, showing both the finished, installed work, and behind-the-scenes process views.
TELL US WHAT YOU NEED
DESCRIBE WHAT YOU'RE LOOKING FOR IN AS MUCH DETAIL AS POSSIBLE AND LET US KNOW HOW TO REACH YOU.